If you have family coming to visit this time of year you'll want to check out this guide so you have the best accommodations for them! If you have friends or family staying in Dallas for the holidays make sure to check out this list for holidays within every budget.
Let's be honest, the last thing most of us want during the holidays is the stress of having loved ones or even friends staying with us. It's best for everyone to have their own space. That's where these great hotels in Dallas will swoop in and save the day.
Check out this list of excellent hotels in Dallas so you have awesome accommodations for your in-laws, friends, family members, and even unexpected guests. Being prepared in advance will help make all visits run more smoothly.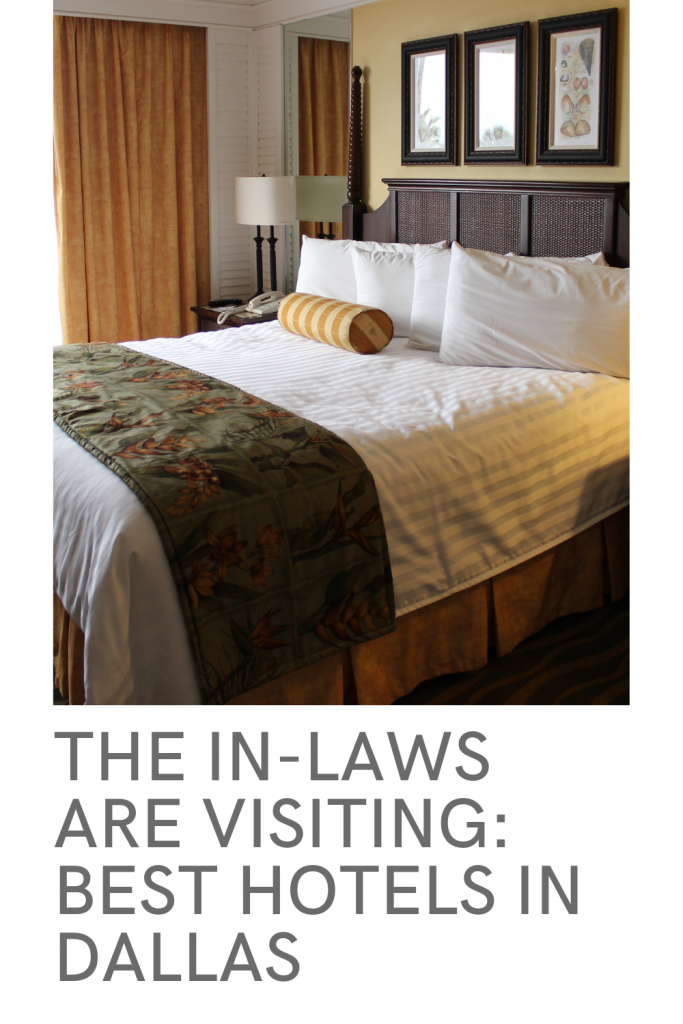 Saying In Dallas | Best Hotels In Dallas
There are hotels on this list that will suit every budget. You don't have to worry about spending a fortune or expecting family to spend outside their budget. There are so many great choices for staying in Dallas that will fit every style and budget.
This guide will help you guide your family or friends on where to stay when they come to visit. You'll rest easy knowing they are comfortable and you don't have to stress about having them in your space more than you would like! A total win during the stressful season ahead.
You don't have to worry about finding accommodations for staying in Dallas. There's something for everyone including luxury spots and budget friendly lodging. Check out this list for all the best hotels in Dallas.

Let's start with some budget friendly options. These hotels can frequently be found available on most travel booking sights for less than $200 per night! Be sure to check travel booking sights, it's always cheaper than booking directly with the hotel!
Executive Inn
12670 East Northwest Highway, Dallas, TX 75228, United States of America
Motel 6 Dallas – Fair Park
8510 East R.L. Thornton, Dallas, TX 75228, United States of America
Dallas Love Field Inn
1550 Empire Central , Dallas, TX 75235, United States of America
Tropicana Inn and Suites
10584 Luna Road , Dallas, TX 75220, United States of America
Motel 6-Dallas, TX – South
4610 South RL Thornton Freeway, Dallas, TX 75224, United States of America
Comfort Suites NW Dallas Near Love Field
2287 W Northwest Highway, Dallas, 75220, United States of America
Now, if your budget has a little more wiggle room these are some of the best hotels in Dallas that are highly rated and more luxurious accommodations! Great for those who have more to spend on travel and those who are looking to treat themselves to some indulgent accommodations.
Rosewood Mansion on Turtle Creek
2821 Turtle Creek Blvd Dallas, TX 75219-4802
The Ritz-Carlton, Dallas
2121 McKinney Ave Dallas, TX 75201-1873
Four Seasons Resort and Club Dallas at Las Colinas
4150 N Macarthur Blvd Irving, TX 75038-6417
Hotel Crescent Court
400 Crescent Ct Dallas, TX 75201-1838
Hotel ZaZa Dallas
2332 Leonard St Dallas, TX 75201-2020
The Adolphus, Autograph Collection
1321 Commerce St Dallas, TX 75202-4294
HALL Arts Hotel Dallas, Curio Collection by Hilton
1717 Leonard St Dallas, TX
The Joule
1530 Main St Dallas, TX 75201-4804
Relocating to Dallas | Pet Friendly Apartments | Apartments in Dallas
It doesn't matter if you are relocating to Dallas or just shopping around for the best apartments in Dallas we can help! We have some great options for the best pet friendly apartments in Dallas too because we have no pet breed or sizing restrictions!
Our amazing MCLife communities like The Place at Harvestree and The Place at Saddle Creek are just two of the awesome options we have in this area. You'll want to explore all the great features and amenities we have to offer along with the upgrades and smart home tech that you just won't find in other traditional housing choices.
Give us a call today or find us on social media if you have questions or are interested in learning more. We'd love to have you join our MCLife family.
Living in Dallas | Staying In Dallas
If you are visiting Dallas, relocating to Dallas, or just looking for things to do while staying in Dallas you will definitely want to explore this list of posts. There is something for everyone to see, do, and experience in Dallas. It's a great place to call home.
For those of you who want to learn more about everything this area has to offer don't miss out on all these great posts for inspiration and more information.