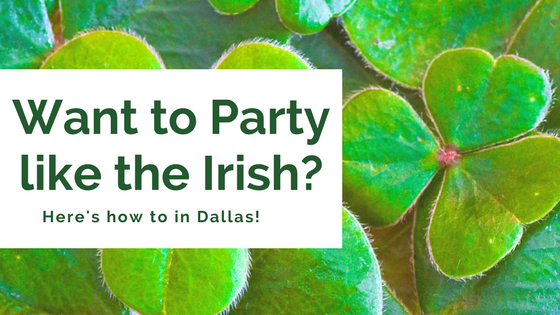 We hope you have your green outfit picked out so you don't get pinched on Saturday! While wearing green has nothing to do with St. Patrick, it's still one of the many fun traditions we partake in every year. If you're looking for something to do to celebrate this Irish holiday, we've found a few of the best events around town near our Plano and Carrollton apartments.
What is St. Patrick's Day?
No, St. Patrick didn't drive all the snakes out of Ireland. But he is the country's patron saint, which is why we still celebrate him more than 1,000 years after his death. The Irish celebrate this holiday every March 17th by attending church in the morning and then eating a traditional meal of bacon and cabbage, drinking, and dancing in the evening. In the U.S. (including Dallas), we like to hold festivals, turn everything green, and head out on the town.
Where: Greenville and Blackwell Street until Yale Boulevard/SMU Boulevard and 75 Central Expressway
Distance From The Place at Harvestree: 13 miles
What: Kick off St. Patricks day with the annual Dallas parade presented by the Dallas Mavericks and other local businesses. Proceeds from the parade go toward the GAABA Scholarship Fund, so you can feel good about getting out and having a good time. The event will have local food trucks and live entertainment that is family friendly during the day and then evening activities for the older crowd.
Where: 5865 Kincaid Road, Plano, Texas 75024
Distance From The Place at Saddle Creek: 5.5 miles
What: Located at The Shops at Legacy, Ringo's Pub is hosting its 9th annual St. Patrick's Day block party. You don't want to miss the live local music, food, and fun, especially since there's only a $5 cover charge before 5:00 p.m. Whether you come for a little while or stay all night, you'll experience a fantastic celebration this Saturday.
Where: 701 Taylor Drive, Plano, Texas 75074
Distance From The Place at Saddle Creek: 6 miles
What: If you want something a little different than your usual St. Patrick's Day celebration, look no further. Instead of the bright and fun-loving leprechauns, this event takes you down a road that is a little darker. This famous haunted house will have an Irish twist, making it an interesting way to celebrate the holiday with your brave friends and family.
While you can always throw your own St. Patrick's Day party at our pet-friendly apartments, this is a great excuse to see what's happening in your community. For even more information, sign up for our newsletter to stay in the know on what's going on in your city.