Vet care costs in Dallas and around the globe can be tricky. They can pop up out of nowhere and derail our finances if we aren't careful. Here are some tips to help you be prepared along with some recommendations for a Dallas veterinarian!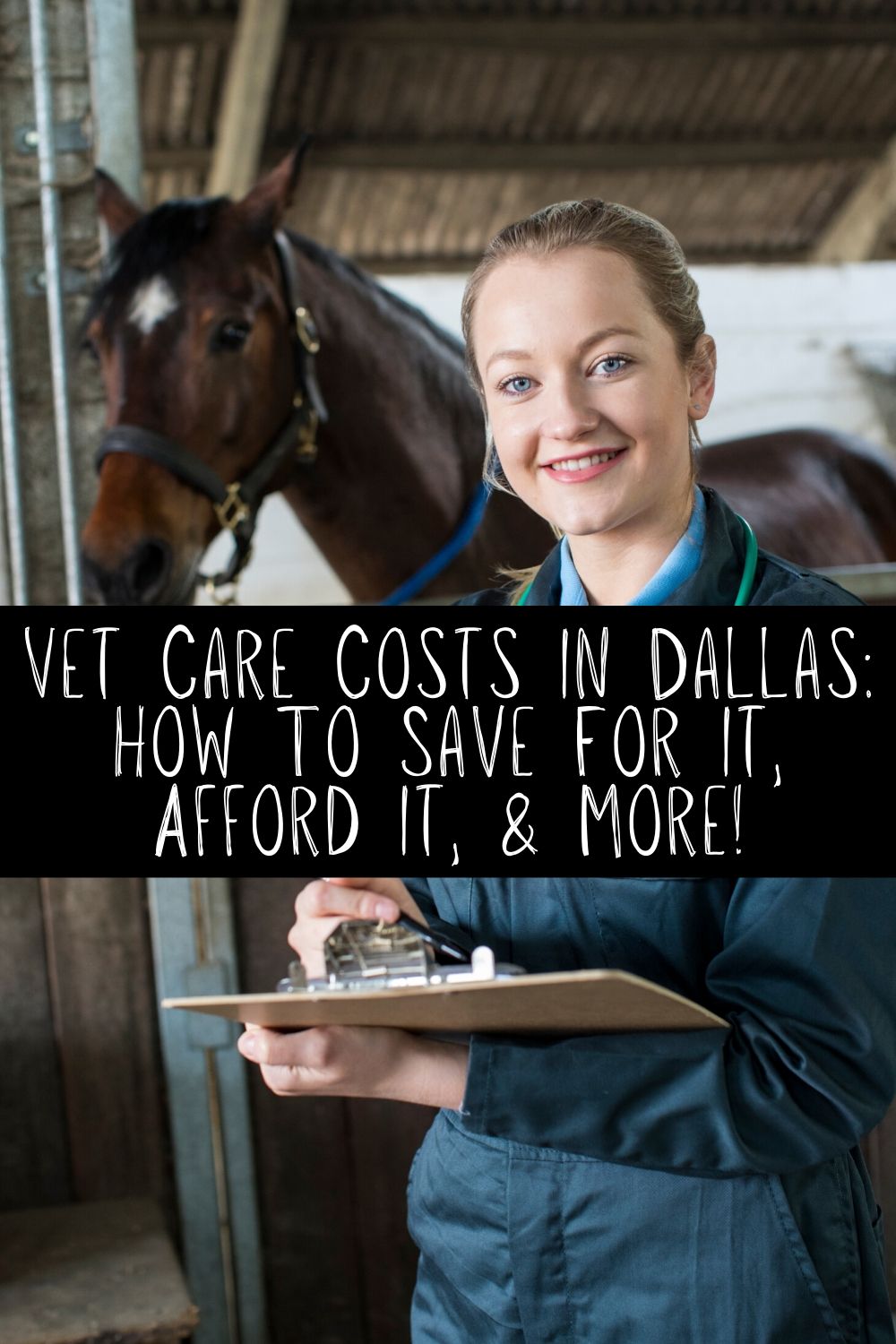 Vet Care Costs In Dallas: How To Save For It, Afford It, & More!
There's no real way to know for sure how much it will cost to care for a pet from the time you bring them home until the time they die. These tips will help you be prepared for the unexpected as well as the routine care things that you will be dealing with on a regular basis. These vet care costs in Dallas are similar to costs you will see no matter where you are living with your pets!
Savings
We recommend you start your savings for your pet long before you bring them home. Having enough saved for any emergency is a great idea before you bring a pet home. Sometimes things pop up as soon as you bring a new pet home and you'll be instantly in need of some extra funds.
Even if you end up not needing those funds for emergencies you will need them for weekly and monthly grooming and care costs, yearly checkups, and even just maintenance medications and foods!
Start small by just putting a few dollars away each week. Set up a simple withdraw from your checking account each pay and put it into a savings account dedicated to your pets. That way you don't even need to think about keeping that account up to date!
Pet Insurance
Nowadays you can even buy pet insurance for your animals. It's like medical insurance but for pets! It comes with a premium each month that is based on age, breed, and type of pet. It doesn't usually cover pre-existing conditions so don't wait for an emergency to pop up, get that insurance coverage right away!
If you can't afford pet insurance consider using it as a guide for how much it might cost you to care for a specific type of pet. They usually have estimators on their sites for common ailments and emergency situations. It will help you gauge how much you need to save before you get a pet.
CareCredit
CareCredit and companies like them work with you to help cover medical costs. CareCredit can be used at most vet offices as well as a lot of medical offices for humans so it's nice to have on hand for either scenario.
CareCredit is also a little unique because they run special financing offers which usually give you between 6 and 18 months to pay off lump sum purchases. That means you would have a longer time to pay off your bills and care costs for pets without accruing interest.
Line of credit, credit cards, and mortgages are options in severe situations as well.
Shop Around
Don't be afraid to shop around. I think it's a great idea to call and get a second or even third opinion on the cost of care. It will show you where you can save money as well as bring up new opportunities to work with different vets.
Check with your humane society and local SPCA for low cost clinics as well. For routine care and shots this can be a great way to save money while still keeping your pet up to date on what they need.
Do Your Research
Before you bring home a pet make sure to look into their common medical problems. You should always plan for the worst case scenario in terms of funding so if you find that the pet you are looking into is prone to costly medical problems you can plan accordingly with insurance, savings, and forethought.
Barter
One way to make sure you can afford the vet care costs is to offer to barter with providers. You might be able to work for them, provide a service or goods, etc. in exchange for care. It never hurts to ask just like it doesn't hurt to check on financing options through you vet. Some offices will allow you to apply for credit and payment plans through their office. Ask about all of your options before committing to services.
Need a Dallas Veterinarian?
Are you shopping around for a new Dallas Veterinarian? We have some suggestions for you. Check out this list of vets in the area with their addresses and phone numbers so you can make contact and hopefully have all of your pets needs cared for!
Hillside Veterinary Clinic
6150 E Mockingbird Ln, Dallas, TX 75214
(214) 824-0397
East Dallas Veterinary Clinic
8541 Ferguson Rd, Dallas, TX 75228
(214) 328-9935
North Dallas Veterinary Hospital
3452 Forest Ln #100, Dallas, TX 75234
(972) 620-9012
Rutherford Veterinary Hospital
924 S Haskell Ave, Dallas, TX 75223
(214) 826-4166
Lakewood Veterinary Center
5726 Belmont Ave, Dallas, TX 75206
(214) 826-4800
Dallas Veterinary Clinic
6125 Sherry Ln, Dallas, TX 75225
(214) 363-4561
VCA Katy Trail Animal Hospital
4151 McKinney Ave, Dallas, TX 75204
(214) 363-4463