You don't have to travel far and wide to get a great spring break trip on the books. You can do any of these 10 spring break trips to take in Texas for an equally fun option that is closer to home.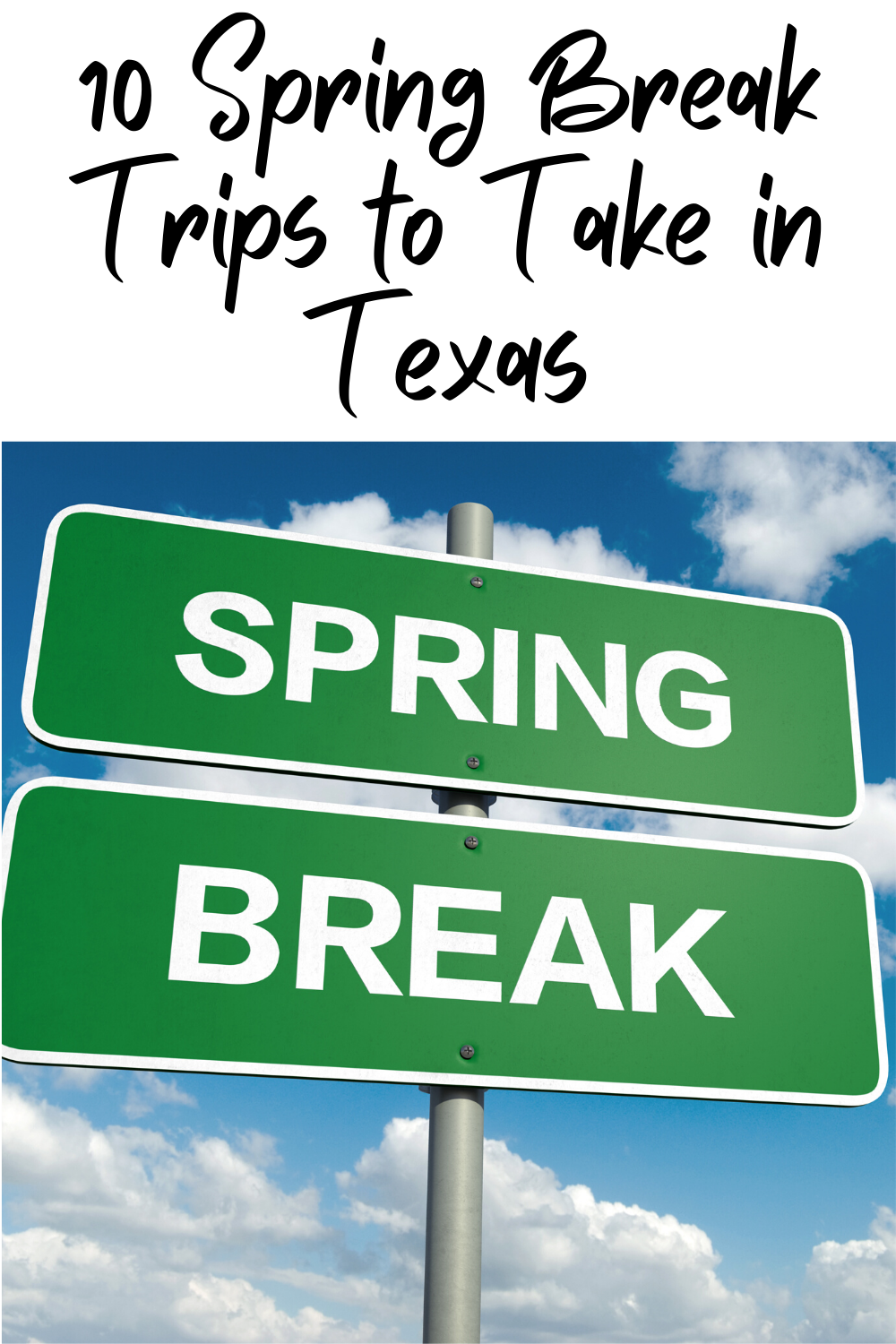 You'll have more money to spend on your trip since you won't have such high travel costs as well! It's a win win!
10 Spring Break Trips to Take in Texas
The great thing about spring break trips in Texas is that there is so much variety. You can head to the coast, do some hiking or adventuring, visit the historical sites, or just kick back and do some partying with awesome nightlife, food, and drinks. Texas has got you covered no matter what you have in mind for your spring break in Dallas.
Galveston Island
Galveston Island is about 27 miles and it's all fun! You have Galveston Island State Park, East Beach, and Dellanera RV Park that offer you miles of golden sand beaches and fun for the whole family. If you are looking for some beach fun, running, shell collection, water sports, and more you can't go wrong with a trip to Galveston Island for spring break. The Pleasure Pier offers the heart stopping fun of an amusement park for those who need a bigger thrill!
Corpus Cristi
In Corpus Cristi there are about 100 miles of beaches. You don't have to travel to some exotic locale to get beach fun, there's plenty right here in Texas.
Looking for a spot to spend your spring break surfing? Bob Hall Pier is the perfect spot! J.P. Luby Surf Park on North Packery Beach has got you covered if you prefer kiteboarding, wake boarding, jet skiing, and other adventure sports on the water.
Drinks are allowed on the beaches in Corpus Cristi just not glass containers so make sure you prepare in advance so you can have the best spring break trip here in Texas.
Port Aransas
Port Aransas is located on Mustang Island. It's a spot well known by locals and travels alike for it's beautiful waterways and that means…fishing! If fishing, lounging on the beach, or playing volleyball are not your thing you can head to Roberts Point Park. They have an entertainment venue, observation tower for watching dolphins, and the Leonabelle Turnbull Birding Center will give you access to boardwalks that cross the wetlands so you can see alligators, birds, and more!
South Padre Island
There are nearly 35 miles of beaches on South Padre Island. The weather is perfect, the water is blue and crystal clear. You can spend the whole trip lounging on the beach or you can check out the local foodie scene with spots like Palm St. Pier, Clayton's Beach Bar & Grill, Tequila Sunset, Louie's Backyard, The Quarterdeck Lounge, and The Garden Grille & Bar.
When you are full of seafood you can check out live music in the area or just take a walk by the beach. The views are incredible and gorgeous!
Boca Chica State Park
Boca Chica State Park is not for the party crowd. This is a place to go if you want to spend your trip enjoying the true beauty of nature and the overwhelming variety of it all.
The Lower Rio Grande Valley National Wildlife Refuge is located in the Boca Chica Subdelta of the Rio Grande. There's no shortage of outdoor activities you can enjoy in this area. It's largely untamed with just one village in the area but you can't do better if you are looking for surfing, snorkeling, picking, camping, fishing, birding and more. Kemp's Ridley sea turtles nest here, the peregrine falcons migrate through this region, and there's a seemingly endless supply of mangrove marshes to be explored.
The park makes a great spot to get away and forget about life for awhile. If you need a break from reality this year, spend your spring break in Boca Chica Sate Park.
Lake Texoma
This is actually an artificial lake that is shared between Oklahoma and Texas…hence the name. If you are looking for water sports and fun this spring break you can't beat Lake Texoma. There's great fishing, sailing, and more. You can rent a boat or bring your own. The waters are clear and deep and there's excellent fishing!
The Grayson County Frontier Village also offers a glimpse at how life was long ago for those interested in the history of the region. They have awesome exhibits like a one room cabin and historical artifacts that will take you back in time!
Comal River
Comal River is a great spot near San Antonio. As far as spring break is concerned this is a popular location. New Braunfels offers the kind of live music, restaurants, and bars. you'd expect for Spring break entertainment but hey also have the two beautiful rivers, Comal River and the Guadalupe River. You can rent tubes and just float the day away or you can join a group at the Schlitterbahn Waterpark. Alcohol is permitted on the Comal River but you have to put it into a non-disposable drink container to keep this waterway as beautiful and pristine as you've found it!
San Marcos River
San Marcos is home to Texas State University and it's just about an hour away from Austin. It's a small town but it packs a big punch in terms of entertainment. All year round the San Marcos River is a hot spot for fun and entertainment. Tubing on the river is by far the most popular activity and that is for good reason.
The temperature of the water stays at a constant 72 degrees and it's incredibly clear. Along the river are protected lands and parks so there's no development, just giant elephant ear plants, trees, and other wildlife.
You can take your drinks on the river as well and most of the tubing outfitters along the river will send you out with a cooler and ice so you can spend the afternoon drinking, kicked back on the water, chilling with your friends. It's the perfect way to spend spring break in Texas.
Guadalupe River
Another exciting river location for your Spring Break in Texas is the Guadalupe River. You can go tubing on the river for some fun in the sun or you can take a scenic drive if the water isn't your thing.
The stretch between Canyon Lake and New Braunfels is so beautiful and inviting you may spend half the trip just cruising along! This area is also home to most of the tubing outfitters and they're all very knowledgeable on the area, time it will take to do a float, safety, and regulations.
You can take your booze tubing with you too (it's spring break after all) it just can't be in a disposable container!
Austin
Austin is home to many universities which makes it a great destination for Spring Break for young people. It's a city that knows how to party…thanks to all those universities and their students. There are music venues offering a variety of entertainment choices, craft beer breweries brewing up all variety and flavors of beer, the food truck situation is amazing in Austin as well. So you'll be able to try out some awesome new foods while you are partying it up with live music and dancing!
Head to the Warehouse District and the SoCo. Red River District to find some awesome live music. Austin is known as The Live Music Capital of the World for a reason. There's so much live music in this city that you'll be done with spring break long before you get to check it all out.