Living in an apartment doesn't have to be a bland experience. You can still spice up your kitchen and get your deposit back. Here are some kitchen decor ideas to help get you started!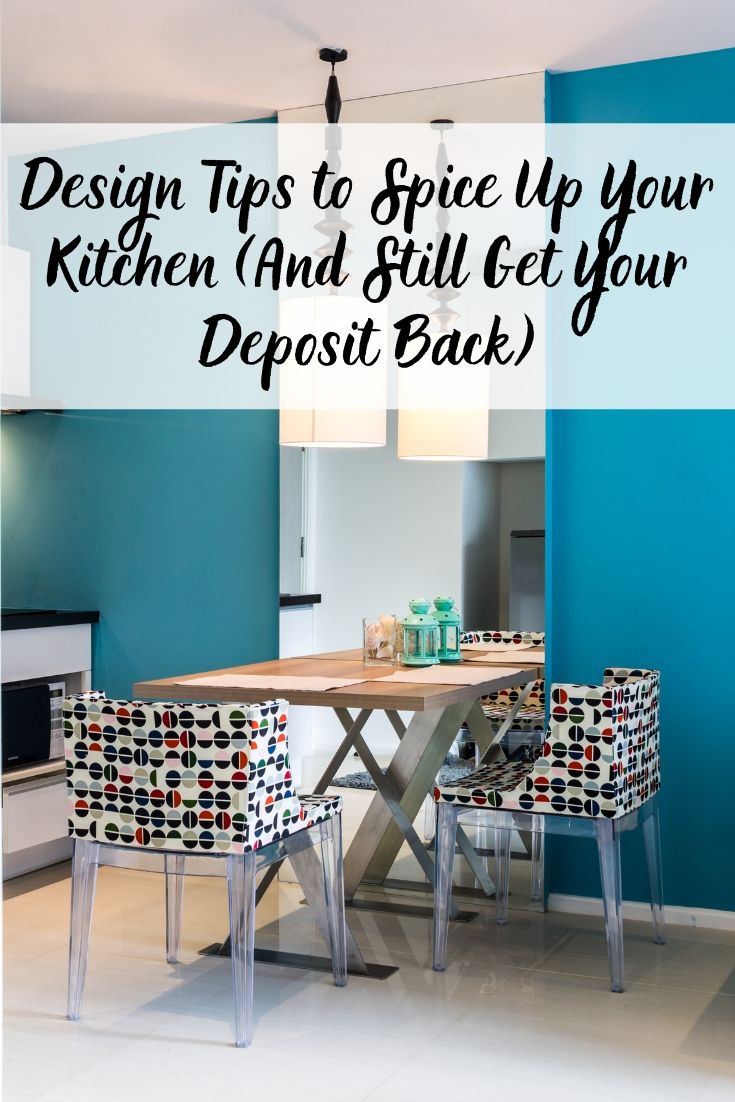 Design Tips to Spice Up Your Kitchen (And Still Get Your Deposit Back)
All of these ideas are non-damaging which means you can use them in any space, even one that you don't own, without any fear of damaging the house to losing your deposit!
Coordinate Your Color Scheme
Look closely at the hues that are already built-in to your kitchen and add in colors that will pop off of those existing ones. Add touches of color wherever you can! It can even be as simple as adding colorful utensils that sit on the counter top or coordinating colorful countertop appliances to match your intended color scheme!
Keep Furniture Interesting
Consider colorful chairs, play around with shape, look for pieces that feature shapely curves and elegant angles. This will help add visual interest in the kitchen without you having to do any remodeling, painting, or design upgrades.
Add in a Rug
It will serve the dual purpose of adding to the room's aesthetic and providing an extra layer of protection for your rental floors! It also makes the room feel more cozy. Choose a rug that can be easily washed so that you can toss it into the washer when the inevitable kitchen spills happen!
Don't Forget Wall Art
Choose pieces that work nicely within your larger color scheme. To avoid nail holes, consider sticking to removable wall decals, stringing up a tapestry, or utilizing existing shelving to create a loose take of a gallery wall. Adding gorgeous kitchen decor pieces to the walls will help make the space feel like your own!
Organize
To free up cabinet space, hang pots and pans from a wall rack, or install a pegboard with hooks to store cookware and essentials. You can also find unique ways to organize anything that has to be out in the open so that it doesn't look like clutter, but rather looks like a part of your kitchen decor!
Swap Out Hardware
Customize your rental kitchen by changing the knobs and pulls of your cabinets and drawers. To avoid losing your security deposit, keep the original hardware so you can re-install it before you move out. Another option is to check with your landlord before swapping out the hardware. Some will be open to the idea of you putting in new hardware, especially if they don't have to pay for it!
Add Extra Storage
Get a rolling kitchen island, this way, you have more cooking space but can move it out of the way when you need to. This is especially useful when you have people over and need more space in your kitchen!
Decorate Your Fridge
Cover it with happy mementos. Create photo magnets and display articles, works of art, and anything else you can think of on your fridge. After all, it takes up a good chunk of space in your kitchen! Make it part of the kitchen decor!